have an idea?
We'll work with you to make it happen. Hey, we like solving problems with technology.
And, don't worry. We'll protect your ideas like they were our own.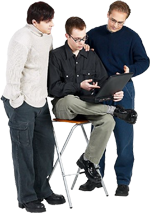 ready to contact us?
company overview
Unconfusing Technology prides itself on being a company of quality and integrity. We believe in doing business the right way and treating people with respect. We do things right the first time, and we don't overcharge for it.
We don't try to confuse you and won't talk "tech" to you, unless you want it. We want to talk to you on a professional level about how we can help your organization grow or accomplish its mission in a more productive manner using technology.
We have experience in many different fields - construction, education, legal, medical. We want to make your life easier and your office more efficient and productive. Keeping you and your staff productive allows you to serve more clients and makes you more profitable.
Don't believe everything you read? That's all right. We think our work speaks for itself, so please, feel free to browse some of our work by visting our portfolio page.
what we stand for
Leading with Integrity
We want to lead the industry with our commitment to integrity.
Social Responsibility
Community service and giving are high on our priority list.
Protecting the Environment
We like our planet, and we've only got one!
A Free Internet
We believe the internet is a place for free speech and should not be censored in any way.