IT Infrastructure Documentation
Big or small, organizations need clear documentation of their IT processes. Small organizations need to remain nimble, and large organizations need to understand all of the moving parts!
We want you to operate as efficiently as possible, so talk to Unconfusing about documenting your technology infrastructure and making suggestions for how to improve your network and office technology today.
Planning and Documentation
Documenting your organization's IT infrastructure or processes is very important. For contingency planning purposes or if there is a need to change the office layout, hire a new employee, or perform system upgrades, it is nice to know how everything is setup at your organization. We provide:
Network topology diagrams
Data flow diagrams
Process mapping
Usage Reports
Benchmark comparison reports
IT and network efficiency reports
IT Infrastructure Growth Planning
Planning for your company's continued growth is crucial to all businesses, especially when you are a small firm or just starting out. Unconfusing will work with you to examine your organizational structure and projected growth to provide the following information:
Expected network and machine usage
Estimated technlogy expenditures
Budgeting for technology needs
Future growth plans
Future upgrade schedules
We don't have a crystal ball and can't predict the future, but with our help you can at least be prepared for controlled growth in your organization and not be overwhelmed by technology needs.
Usage
It is often important to know how your company's resources are used over time. For example, what are the busiest times for your point of sale software or web server?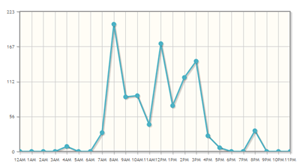 Efficiency
We can help you determine what IT processes are consuming your budget or which you should improve.
Benchmarking
Compare your throughput, network efficiency, and/or productivity to where you should be.